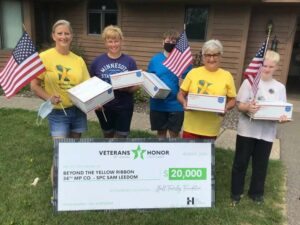 The City of Hugo's Yellow Ribbon Network was proclaimed in 2010, the second city in Minnesota to join the Minnesota National Guard's Beyond the Yellow Ribbon program. Since then, the Hugo Yellow Ribbon Network has earned a reputation of enduring, dependable, and meaningful support for our military members and their families.
The Hugo YRN program provides ongoing, seasonal and signature events.
Ongoing programs include monthly responses to requests from military service providers (FACs, FRSAs, CVSOs, unit FRGs and Chaplains) and military members themselves for assistance such as home repairs, car repairs, snow plowing, lawn mowing, moving, transportation and help with payments of household and medical expenses. Not a month goes by without the Hugo YRN responding to a request for assistance.
Seasonal programs include: a Secret Santa program connecting YRN volunteers with military families in need of a little extra help with Christmas gifts-the program helps between 15-20 families every year; providing volunteers and funding for military unit events such as military unit pre-deployment gatherings and holiday parties; support for Gold Star Weekend at Camp Ripley; financial support for the National Guard Youth Camp; hosting Youth Hunt every year at Wild Wings.
Signature programs include:
Care packages to deployed service members; although this program began in 2010 it was only in the summer of 2012 that totals began to be kept. Since that time, over 70,000 pounds of "wish list" items have been sent to service members deployed overseas. At an average mailing cost of $1.40 per pound, that is over $100,000 just for postage. That cost does not include purchasing the "wish list" items shipped in the packages.
Welcome Home the Troops Pheasant Hunts. Since 2010 the YRN in cooperation with Wild Wings of Oneka Hunt Club have welcomed home EVERY returning Minnesota National Guard unit from overseas deployment. There have been 24 such events since 2010 and this uniquely Minnesota welcome home event has hosted over 2,500 returning service members. Minnesota patriot/sportsmen have donated over $500,000 to make these events possible.
Monthly Burger Night at the Hugo American Legion. In 2011 the Legion offered the YRN the use of their facility (kitchen, banquet hall) to host a once a month fundraiser. What began with a modest crowd of 40 has grown into a regular crowd of over 150 and with the addition of monthly business sponsors who promote the event, the crowd is often 200 or more. We shamelessly encourage competition among our business sponsors for the coveted "Burger Night Sponsor of the Year" award that is presented each December at a Hugo City Council meeting. There is fantastic support from local residents and businesses. Local residents have become regular attendees and a local business sponsors the event each month. Support from the business community is so robust there is a twelve month waiting list to be a sponsor.What began as a small fundraiser has grown through loyal community support and the addition of monthly business sponsors to become much more. Specifically, the popularity, publicity, and reach of the event promotes our mission message to the broader community: there are STILL military members being deployed and they and their family need our continued support.Burger Night has become a crucial focal point. It allows volunteers an opportunity to be regularly involved with the YRN mission. It provides community members and local businesses the opportunity to be involved in support of our military members and their families. It provides military members and their families the opportunity to attend, enjoy a good meal in a family friendly atmosphere and partake in fellowship and support.
It serves to continually remind the community that our Minnesota National Guard soldiers and airmen are still being deployed overseas of the ongoing need to support them and their families.
PHOTOS OF YOUR SUPPORT AT WORK